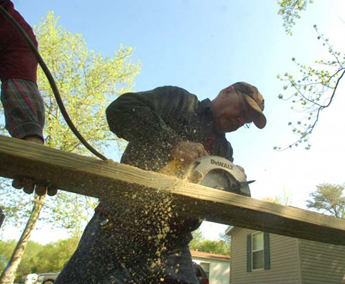 Christmas in April is the largest home rehabilitation organization in America. Our mission is to build partnerships to rehabilitate homes and community facilities of low-income, elderly, and/or disabled homeowners so they can live in warmth, safety, and independence.

We also bring together volunteers throughout Cecil County to rehabilitate homes. This neighbor-
helping-neighbor effort culminates in our annual Work Day, held on the last Saturday in April. Each year, we facilitate the renovation of homes at no financial cost to the homeowner.

Christmas in April*Cecil County was started in 1994 and incorporated in 1997. To date, we have facilitated over 300 projects. With the help of our many sponsors and volunteers, our mission is to continue to help our neighbors in need.

Our approach is simple: months of planning and preparation culminate in our Christmas in April Work Day – the last Saturday in April – when volunteers, both skilled and unskilled, in communities across America come together to repair and rehabilitate the houses of needy residents in their own communities.


Our goal is to leave each home safe, warm, and dry. We hope to add a bit of joy and dignity to the lives of the homeowners.

Homeowners do not pay for any repairs. All materials are donated or paid for by either the sponsor groups or Christmas in April. Able-bodied residents of the home are expected to help work. Friends and relatives are encouraged to volunteer as well.

We accept donations from churches, businesses, corporations, organizations, and individuals. All donations are tax deductible. Christmas in April now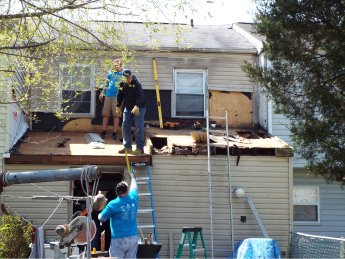 has chapters in hundreds of cities and towns across America.

We have reached the far corners of Cecil County with projects in Rising Sun, Earleville, Chesapeake City, Elkton, North East, Conowingo, Port Deposit, Perryville, and Charlestown.

Our homeowners are our best assets. They come to us from all different backgrounds, but they all need a little help. Many of them are proud and find it hard to ask for help since they, often, were the ones to help others when they were younger. It is important that we all remember their pride and honor it.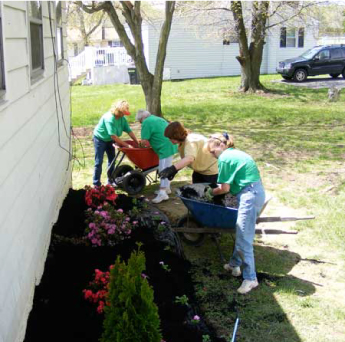 Volunteers come from all backgrounds and with all skill levels. We have electricians and plumbers, carpenters and contractors, roofers and general handymen. We also have a large number of "unskilled" volunteers; these are the people who come for the day to do whatever needs to be done. They work wonderfully under direction of a skilled craftsman or do "grunt" work like loading trash on a truck. None of our jobs could be completed without lots of these unskilled workers.

And don't forget the people who work all year long to make the Christmas in April Work Day happen! Our Board of Directors meets regularly to plan for the next year's projects, raise funds, and visit organizations to tell them about Christmas in April. We also work with
the House Selection Committee to preview and decide on the projects that can be done. Publicity and newsletters, fund raising activities, and forms and reports to various organizations are all part of the job of the Board of Directors. The Board is 100% volunteer-based and we are always looking for new members to bring new ideas to our organization. We meet once a month for 2 hours, usually the third Thursday of the month. More time is needed closer to the Work Day, but all volunteers set their own schedule. Any time you can devote would be greatly appreciated.

For more information, or to become more involved, please email Bob Alcorn or telephone us at 443-907-5289.