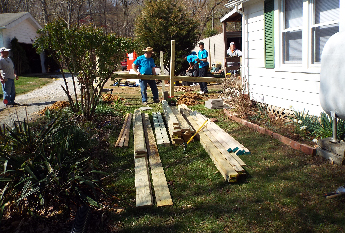 Christmas in April*Cecil County is made possible with the help of our volunteers. We need you to make this Work Day successful!

All volunteers are required to complete the Volunteer Sign-Up and Waiver form. We have two different forms depending upon the volunteer's age. Please print out the appropriate form and bring it with you on Work Day.
Adult (18 and Over) Volunteer Sign-Up and Waiver (PDF)
Non-Adult (14 - 17) Volunteer Sign-Up and Waiver (PDF)
Due to safety concerns, no one under the age of 14 is permitted to be at the job site. Thank you for understanding.

We need both skilled and unskilled workers to help with our projects on Work Day. If you would like to volunteer, please complete the following form. Your submittal of this form indicates that you understand that the scheduled Work Day is the last Saturday of April, weather permitting. Furthermore, you understand that Christmas in April*Cecil County will provide you with the project location, your work assignment, and further details between now and Work Day.
VOLUNTEER SIGN-UP FORM
Date:

Name:

Address:

Telephone:

This is my home cell work telephone number.

Best time to contact you:

Group Affiliation (If any):

Email:

Helpful skills such as carpentry, plumbing, electrical, plastering, painting, etc.:
Please select:
I would like to be assigned to the same house with members of the above-mentioned organization or with House Captain
I do not have any preference concerning house assignments
I will be able to work from the hours of to


(Work Day usually begins at 9:00 a.m., but hours may vary depending on the project. Your Volunteer Coordinator will inform you of the start time.)