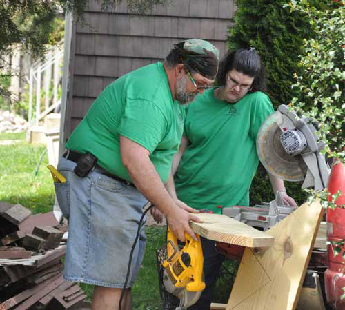 Benefits of Sponsorship:
A positive association with a community organization with a long and successful history
A team-building experience for your employees
Access to our community partnerships with other corporations, volunteers, individual donors, and community-wide funders
Media recognition through editorial coverage, press releases, PSAs, and thank-you ads
Prominent signage at your sponsored worksite
A point person to assure that your sponsorship needs are being fully met
How Sponsorship Works:
Once you have committed to sponsoring a home, Christmas in April*Cecil County will work with you to match you with an appropriate worksite. Depending on the scope of the project, you will provide an appropriate number of volunteers from your organization. Included in this group is the key volunteer, a House Captain.
The House Captain:
House Captains are key players in the Christmas in April operation. They function as project managers and are responsible for creating a list of materials for the work that needs to be done, determining how many volunteers will be required, purchasing and soliciting materials, and overseeing the work on Work Day. If you do not have a volunteer who has the required skills of a House Captain, Christmas in April*Cecil County will assist you in recruiting one.

As a House Captain, you are the KEY PLAYER in the Christmas in April operation. The House Captain is the one person in charge on Christmas in April Work Day and is responsible for PLANNING AND MANAGING A SAFE, QUALITY PROJECT that will be a meaningful and enjoyable experience for volunteers and homeowners alike. Equally as important, the House Captain often sets the tone at the house. During this day of hard and satisfying work, it's important that everyone have fun and experience the joy of team camaraderie. Being a House Captain requires a commitment of time and energy. You can also share responsibilities with a Volunteer Coordinator.
House Captain Responsibilities:
Before Christmas in April Work Day:
Attend mandatory House Captain meetings, before and after the Work Day (2 to 3 meetings)
Visit your assigned site. Get to know the family and the house ahead of time
Determine the Scope of Work to be done and KEEP IT SIMPLE. Have the homeowner(s) sign the Scope of Work and give copies to the homeowner(s) before the Work Day. This is your "contract" for Work Day. This way everyone has an understanding about what will happen on Work Day
Prioritize the work to be done and organize it in advance of Work Day
Choose Job Captains to help you with supervision
Look for safety improvements that can be made around the house
Estimate the cost of the project – NOTIFY CHRISTMAS IN APRIL*CECIL COUNTY IF YOUR FUNDING WILL NOT COVER THE COSTS!!
Deal with the homeowners' expectations. Be realistic, we cannot do it all
Don't make promises to the homeowner
Determine the materials and supplies you need for your site
Order materials and supplies from designated suppliers
Assist in finding donators for more expensive items (i.e. doors, windows, etc.)
Pick-up donated supplies at the last House Captains' meeting before Christmas in April Work Day
If you have a Volunteer Coordinator, let them know what assistance you will be needing - they are your support. Help them succeed so it will be a fun, enjoyable Work Day!
On Christmas in April Work Day (Work Day is the last Saturday in April):
Clearly assign all jobs to volunteers
Be a leader. Direct the work of volunteers on Christmas in April Work Day, stressing SAFETY and a QUALITY project
Conduct a final walk-thru with the homeowner at the end of the day explaining what was and was not completed. We are not obligated to do any work after our Work Day; however, we do not leave jobs half-finished. If you need to return, make arrangements with the homeowner and your work crew. Have the Homeowner sign a Homeowner Satisfaction Form before leaving the jobsite for the day
After Christmas in April Work Day: ***THIS IS CRITICAL***
Complete the House Captain Evaluation after Christmas in April Work Day
Submit any bills to the Christmas in April Area Coordinator that your group is not paying
Return all unused supplies given out by Christmas in April
Return all completed forms, including volunteer sign-up sheets and Homeowner Satisfaction Forms
At this time we are looking for sponsors for our future projects.
Listed below are several ways you may wish to support our organization to help make a difference in the lives of our elderly and physically-challenged neighbors. Please complete the form below.
SPONSOR A HOUSE SIGN-UP FORM
Organization Name:

Contact Name:

Address:

Telephone:

Email:

Please select your level of sponsorship:

Premier
Supporter contributes

$

2,500

Gold
Supporter contributes

$

2,499 -

$

1,500

Silver
Supporter contributes

$

1,499 -

$

1,000

Bronze
Supporter contributes

$

999 -

$

500

Sponsor-A-House
Supporter contributes

$

1,500 to cover the average costs of materials and supplies and provides 20-30 volunteers

Adopt-A-House
Supporter purchases all supplies, provides a House Captain, and all skilled labor and majority of volunteers, assumes responsibility of one house

T-Shirts
I would like to donate

$

towards the purchase of
t-shirts for event day. Each person participating will receive a Christmas in April*Cecil County t-shirt.

Other
Please contact me so we can discuss this subject in more detail.
Additional Support

We can provide skilled volunteers.

We can provide general (unskilled) volunteers.

We can donate building materials or other supplies.

We can provide volunteers and a truck to help with deliveries one week prior to the Work Day.